People's taxes became one of the many issues created by the COVID-19 pandemic. The Wehrly Group, a tax and investment company, came to us with a need to get information out to their clients and the general public in a simple manner. With the CARES Act released only days prior, the onus was to disseminate information quickly and clearly. Our idea was to conduct a free webinar [shown below] discussing the important aspects of the legislation.
We created a plan of action that would allow the company to reach their clients, as well as many in the Greater Houston area, to let them know about the webinar. People had questions during this time and it was imperative to get them answers quickly and efficiently.
We chose Facebook Live as the webinar platform; but before launching the webinar, we needed to create a sense of excitement around the event. So we created a quick 45-second commercial.
During the video shoot, we conducted a photo shoot so that we could use the imagery for advertising purposes.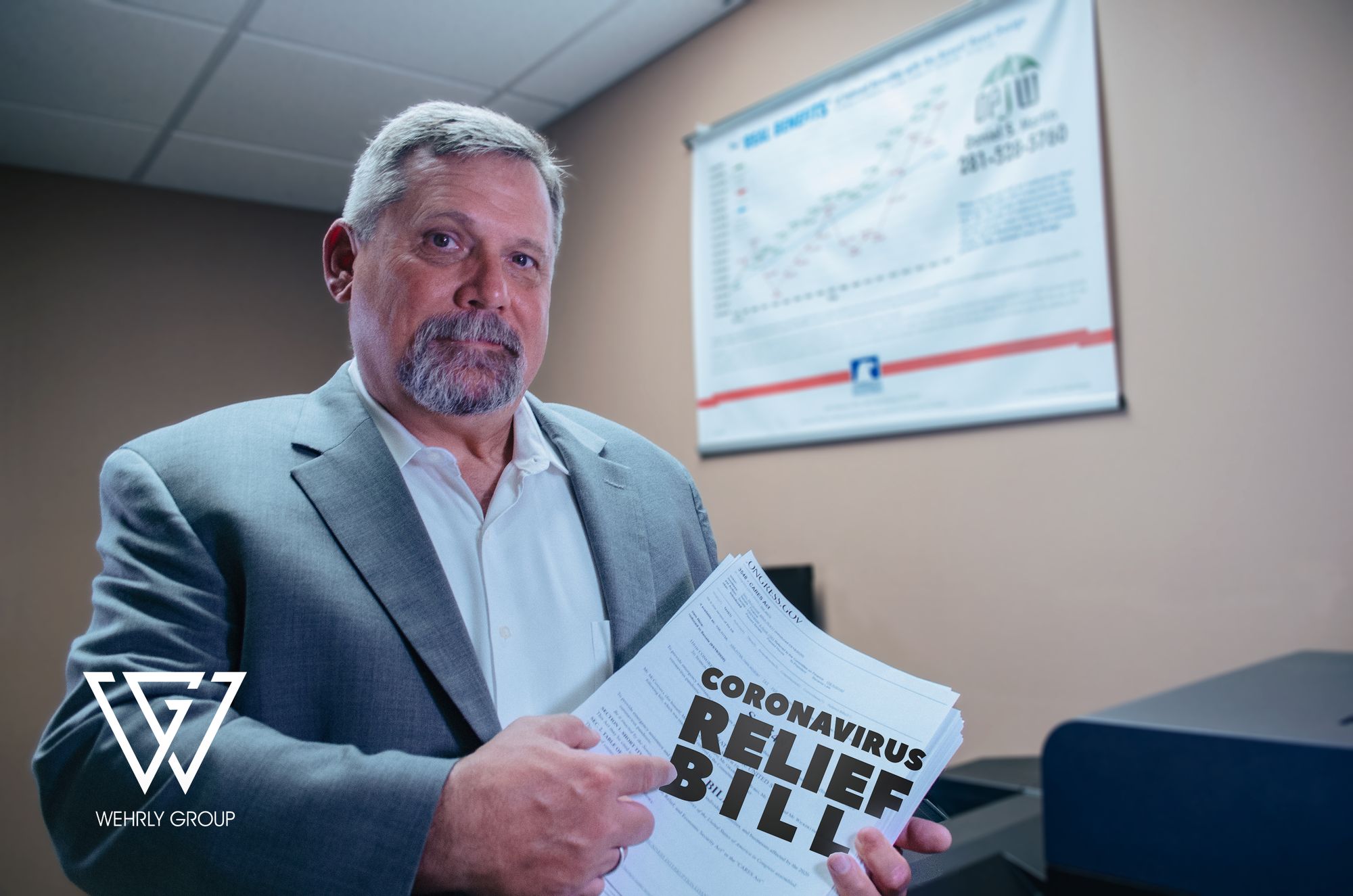 We utilized the photos for the Facebook Event and the Facebook Ads we created. The Ads were built with A/B testing.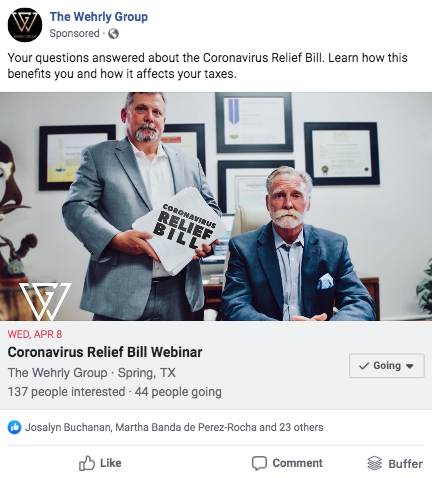 We created a Facebook Audience based on their target demographic. The Ads and the Facebook Boost of the commercial were centered around the specified Audience.
The day of the event, we set up the location for the webinar shoot. Conducted simple lighting to give the best look and feel for the video.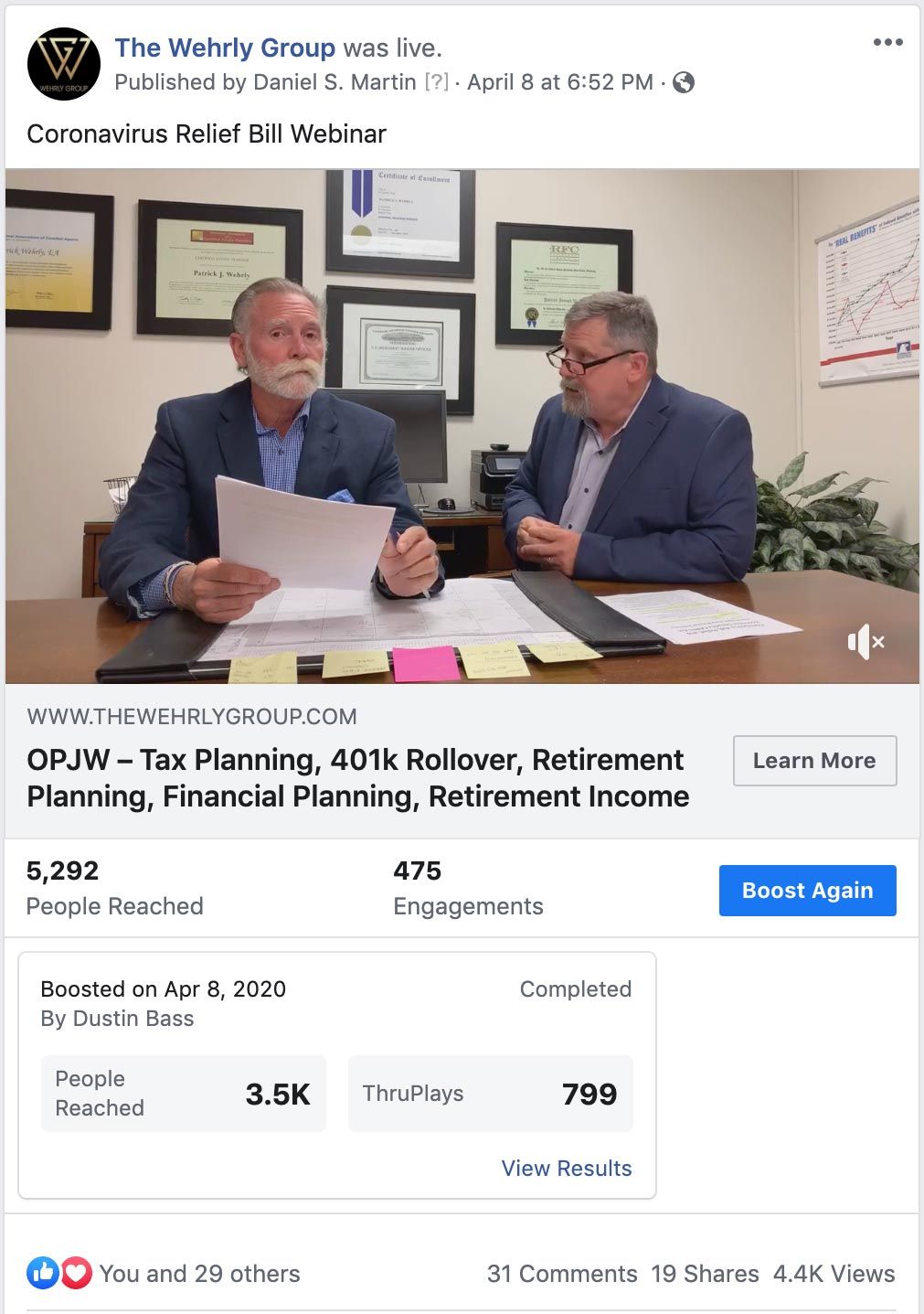 We shot the Facebook Live webinar on an iPhone along with a simple audio connector for better sound quality. We encouraged the owners and employees to share the event once it went live. The webinar lasted almost 20 minutes and was truly successful.
By the end of the week, we had more than 4,200 views on the Facebook Live Webinar.
Events like these are very important for businesses to conduct. It provides their clients and potential clients with an opportunity to interact directly with the company and owners. It also enables businesses to show that they care about their community and their clients, whether it is an important subject, like the inner workings of a stimulus bill, or not.
Putting together an event like this is important, but what is just as important is taking the necessary measures to ensure as many people as possible show up to the event.
We are here to make sure your event goes as smoothly and as successful as possible. Call us or email us for help with your next online event.
EMAIL CAMPAIGN RESULTS